Product Description
Handheld SPC Data Collectors
The Genesis line of roving data collectors gathers up to 32 variables and/or attributes. Depending on the model, users may collect data from analog, digital, LVDT, bar code or voice recognition devices. And with Genesis' automatic gage recognition, there is no need to program in gage information—just plug in any gage and collect data.
Trend Analysis...

Automatically warns of out-of-control situations through status lights and screen displays, prompting users with causes and corrective actions using eight user-defined tests

Traceability...

Choose from up to 8 user-defined subgroup variables (date, time, operator, machine number, etc.)

Built-in capability to filter data based on any combination of subgroup variables

Capacity...

Collects data on as many as 99 features per part

Each unit can handle subgroup sizes from 1 to 50

Capacity to store and analyze 24,000 measurements

All models are "variable" data collectors, but models QA3000 and QA3300 also perform input of "attribute" data within the same part program as well as Gage R&R
Functionality...
Hand-held (portable and self-contained)
Fixed station with optional external monitors
Networks with enterprise systems
High-contrast LCD screen displays crystal-clear charts, graphs and data lists...
16-line by 42-character super-twist LCD displays more information than other portable collectors
Pop-up window warn users when process is out of control and recommend courses of action
Annual maintenance agreements include the following...
Free firmware and software upgrades
Attractive trade-in programs
Instant access to data...
Point and select feature allows users to point to a specific subgroup or feature on the display
With a single keystroke, users access measured data, subgroup variables, statistical calculations
Status lights...
Complete array of status lights to advise operator of conditions requiring immediate action
Fully sealed keyboard and keypad…
Functional sealed QWERTY keyboard and numeric keypad
Built-in network hardware...
RS485 output for direct communication to any network
Optional LAN-link module for 10baseT Ethernet networks
Output to status and control devices port...
Connect external accessories including earphones and status lights or control signals
Print hard-copy reports...
Centronics parallel port for printing charts and data reports, including x-bar/r, x-bar/s, ix/mr, mx-bar/mr, histogram, pareto, capability, sample and subgroup data, mean, standard deviation, Cp, Cpk, Pp, Ppk, CR, PR, Cpm, CPU, CPL, ZU, ZL, % US, % OS, skewness and kurtosis
Genesis QA 2500 and 2800 summary...
QA2500 incorporates 4 digital gage ports
QA2800 incorporates 2 digital and 2 analog gage ports
Additional gages may be interfaced by adding Genesis Multi-gage Interfaces (MGIs)
QA3000 and 3300 summary...
QA3000 unit incorporates 4 digital gage ports
QA3300 incorporates 2 digital and 2 analog gage ports
Additional gages may be interfaced by adding Genesis Multi-gage Interfaces (MGIs)
Variables data collection and analysis with the flexibility to collect and analyze attribute data
Gage R&R
Why Gage R&R (Repeatability and Reproducibility) is so important...
An analysis of a process cannot be meaningful unless the gages used to collect data are both accurate and repeatable
Without fully understanding the performance of the gaging used to produce this data, users may be reacting to faulty gages rather than variations in the process itself
Firms pursuing ISO 9000 need Gage R&R as it is an important asset
Size and weight...
9 ¼" x 8 ½" x 3 ¼" at 4 lbs
Battery life is 12-14 hours (continuous use)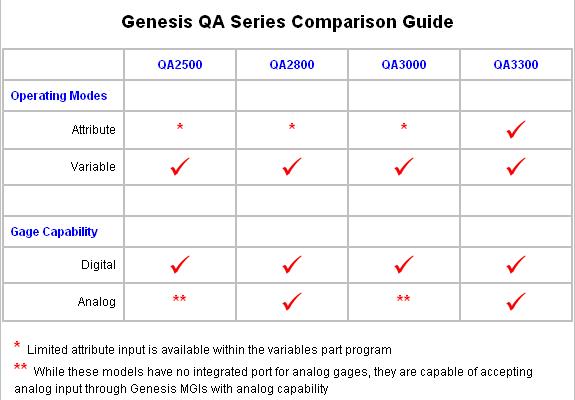 Custom Field
Product Reviews